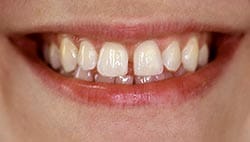 A lot of times a gap between your teeth can be quite unsightly or leave you with a feeling of having an imperfect smile. Do you have a gap between your teeth? Then you have what we call in dental terms a "diastema". The term "diastema" is most commonly applied when discussing the space between your two front upper teeth.
What Causes Gaps Between Teeth?
It can be caused by a number of factors such as genetics, different size teeth, low muscle attachment between the teeth (known as a frenum) or it could even be caused by gum disease (periodontal disease).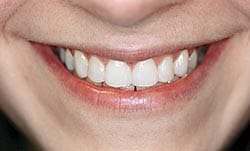 Normally your dentist would treat this condition by using Orthodontic Therapy, or braces in a treatment that would last anywhere between 12 to 24 months! However, with new advances in modern cosmetic dental procedures, diastemas can be corrected in as little as two painless visits.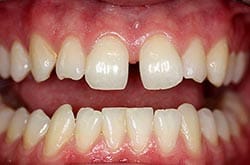 There are two ways to treat a diastema. The first involves orthodontically moving the teeth together with braces, and this option usually requires one to two years of treatment. Many patients do not want to wear braces and seek alternative ways to close their diastemas. When the space between the teeth is one millimeter or less, the diastema can be closed by placing a bonded composite restoration on each adjacent tooth. When the space is larger than one millimeter, or when more permanent and stronger restorations are required, porcelain veneers are the restorations of choice. Porcelain veneers are eggshell thin pieces of porcelain applied directly over the tooth structure after some initial tooth preparation.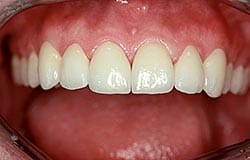 Once the porcelain veneers are fused to the underlying tooth structure, they can reestablish the look of straight teeth and can close spaces without the use of braces. Additionally, the color, shape, and size of the teeth can be altered to the wishes of the patient for overall smile enhancement. And the greatest advantage of porcelain veneers is that the treatment can be completed in only two painless visits!
If you are interested in learning more about this service or desire to improve your smile then contact McKenzie Towne Family Dental today at (403) 257-1180.