It's the virtually invisible way to straighten your teeth without braces.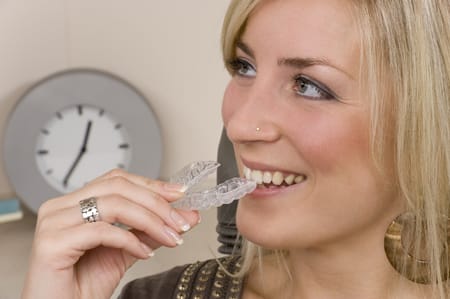 The Invisalign system uses a series of clear, removable aligners to move your teeth over time to give you the smile you deserve!
Your Invisalign treatment will consist of a series of aligners that you switch out about every two weeks.
Each aligner is individually manufactured with exact calculations to gradually shift your teeth into place. And since your Invisalign system is custom-made for your teeth and your teeth only, with a plan devised by you and your dentist or orthodontist, you know you'll end up with a smile that truly fits.
If you're ready for a smile that transforms your appearance, Invisalign is your answer. Although there are many choices out there, no other works as effortlessly as the Invisalign system.
Invisalign is the best way to transform your smile without interfering with your day-to-day life
---

What are the Benefits of Invisalign?
It will fit your lifestyle!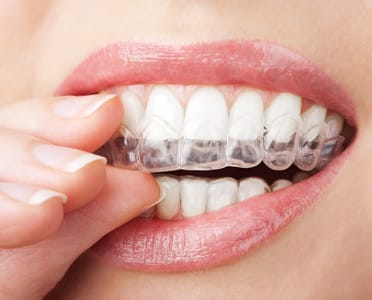 Invisalign can easily find a place within your lifestyle. Since it's virtually invisible, you can go about your daily routine with almost no one even knowing you're correcting your smile. And the ability to remove your aligners is an advantage other treatments can't offer.
You can smile healthy
It's easy to see that a straight, well-aligned smile looks great. But that kind of smile often means it's also a healthy smile. So put yourself in a healthy state of mind, and take a look at the many benefits of a properly aligned smile.
You can have healthier gums
Signs of periodontal disease, such as swollen gums and redness, can surface due to teeth that are crowded or too widely spaced. Clinical studies have shown that when teeth are properly aligned, it helps the gums fit tighter around the teeth, which can lead to better periodontal health. Since the Invisalign system's greatest advantage is its ability to align teeth, your gum health may improve after Invisalign treatment. And since you can brush and floss normally with Invisalign, unlike with traditional braces, you can more easily prevent tooth decay and related periodontal disease.
You will have easier cleanings
One of the Invisalign system's best qualities is that it uses no metal bands, brackets, or wires that may trap food and plaque-like traditional braces do. And since the removable nature of Invisalign allows you to maintain good oral hygiene habits, you may also reduce the chances of plaque buildup, tooth decay, and periodontal disease.
You will have improved chewing and speech
When you leave incorrectly positioned teeth and jaws untreated, it can lead to speech difficulties and uncomfortable chewing issues. Invisalign treatment can improve both of these problems by giving you better-aligned teeth and jaws.
Maintain comfort and tooth structure
Mis-aligned teeth and jaws can result in abnormal stress. This can cause painful trauma to supporting bone and jaw joints. These issues can also cause abnormal wear on your teeth, which can trigger continued problems in the future.
If you are interested in learning more about this service or desire to improve your smile,
contact McKenzie Towne Family Dental today at (403) 257-1180.