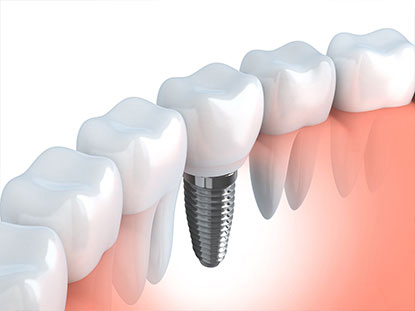 Dental Implants are small, titanium, screw-shaped threaded cylinders that are placed into the bone in the upper (Maxillary) and/or lower (Mandibular) arches of the mouth. They are used to replace one or many missing teeth or to stabilize dentures. Titanium is an inert metal that is capable of creating a very tight bond with bone. Titanium is used in other operations such as knee or hip replacements — so it is a proven surgical component.
The dental implant acts like the root of a natural tooth, and bone actually forms around a special coating on the dental implant to hold the implant firmly in place. This process is referred to as osseointegration. A crown, with the look, feel, and function of a natural tooth is then affixed to an abutment which is connected to the implant. The 'abutment' is simply a small connecting piece between the implant and the crown.
In cases where there are multiple missing teeth, or where the patient has previously had dentures, multiple implants are placed in the mouth to allow for implant-supported crowns or bridges, ball abutment retained overdentures, and/or bar-supported overdentures.
The success rate for dental implants is very high; and, with proper care, good dental hygiene, and a healthy lifestyle, it is rare that implants will fail. Over the past 30 years, hundreds of thousands of implants have been placed. Many of the 'original' implants are still functioning without problems. Technology and procedures have advanced significantly since the first implants were placed. The success rate is now in the 95%+ range. Some reasons for failed implants can be attributed to an unhealthy lifestyle (smoking), or to poor dental hygiene.
WE OFFER ORAL AND IV SEDATION FOR COMPLICATED CASES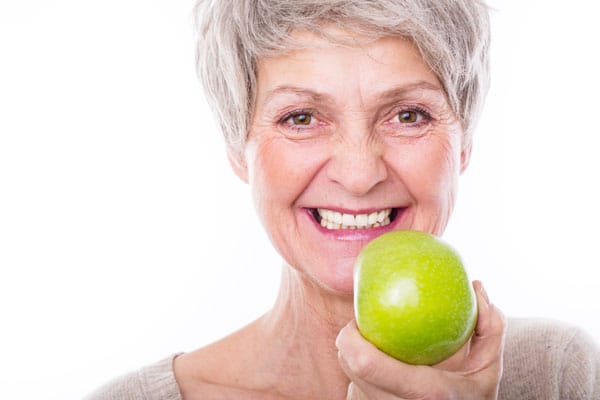 What are the benefits of Dental Implants?
There is a significant improvement in the overall quality of life for patients who have implant-supported or retained dentures, as opposed to standard or conventional (free-floating) dentures.
Implants maintain, or realign, facial structure and profile, and preserve bone.
Dental Implants are easy to clean and do not decay.
Implants help to preserve adjacent natural teeth. With an implant-supported bridge, there is no need to stress or traumatize adjacent natural teeth in order to hold the bridge in place. Traditional removable partial dentures also place stress forces on the remaining natural teeth.
Implant-supported crowns and bridges have a longer functioning life than conventional crowns and bridges placed over natural tooth structure.
Implants help to prevent the appearance of premature aging due to bone loss. Osteoporosis can accelerate bone loss with patients using standard or conventional dentures.
Patients who wear conventional full dentures often experience difficulty eating, speaking and smiling. Implant-supported dentures virtually eliminate embarrassing denture slippage. The implants 'anchor' the dentures.
Implants are cost-effective when taking into account the functioning life of the implant.
If you are interested in learning more about this service or desire to improve your smile
then contact McKenzie Towne Family Dental at (403) 257-1180 today!

Whether it's a dental emergency in South Calgary or just a regular checkup or cleaning, McKenzie Towne Dental wants to make your experience as comfortable and convenient as possible. Serving McKenzie Towne, Cranston, Auburn Bay, Seton, Copperfield, New Brighton, Mahogany, Inverness, and all of Southeast Calgary
© Copyright 2023 McKenzie Towne Family Dental and Dental Growth Strategies | All Rights Reserved | Powered by Dental Growth Strategies | Disclaimer: Dr. Safi Magharius is a general dentist, not a cosmetic dental specialist. Cosmetic dentistry is not a term/specialty recognized by the Alberta Dental Association & College (ADA&C). Dr. Magharius provides cosmetic dental procedures such as porcelain veneers, dental implant crowns, dental bonding, and teeth whitening as part of his general dentist license.
This website uses cookies.